December 23, 2018
With the next issue to be published in January, the entire Omega Point team and I would also like to take this opportunity to wish you a peaceful holiday season and New Year filled with happiness and prosperity.
As noted last week, you can now access all past issues of Factor Spotlight on our website, and in this issue we have compiled a list of the top 5 most popular Factor Spotlights of 2018. (#1 should come as no surprise to most of you.)
US Market
This has been one of the toughest weeks we've seen for the US Market Factor (99% correlation to the S&P 500), dropping almost -7%.

Factor Recap
Here's a look at how some key factors we've been tracking have changed in our normalized return indicator. This week's biggest movers have been Growth and Medium-Term Momentum moving into Overbought territory and Market Sensitivity reverting away from the mean.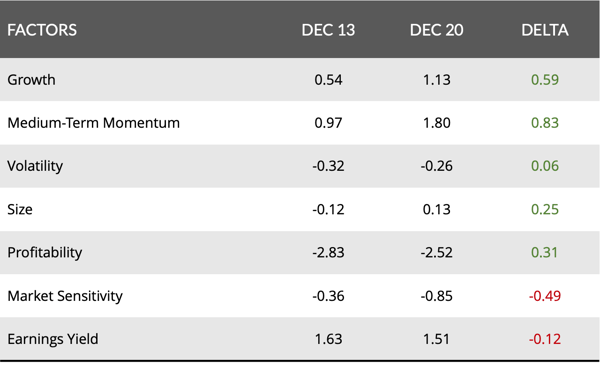 If you'd like to see what your portfolio's relationship is with any of these factors, or would like to better understand how you can mitigate factor exposure, please don't hesitate to reach out.
---
Now without any further ado, below are the Top 5 Most Popular Factor Spotlights of 2018.
1. FACTORMAGGEDON 2018?
October 12
Taking a break from our usual focus on a specific factor this week, we'll be sharing our observations on the recent market sell-off from a factor point-of-view. The Nasdaq and Dow are off to their worst start to a fourth-quarter since 2008, and we're seeing one of the steepest market declines in recent memory. While many pundits are blaming rising interest rates, industrial weakness, and looming trade conflicts, our models show that we can empirically assign a lot of the market's underperformance to an intensifying factor rotation across the well-known 6 style factors. MORE

2. HOW TO GET DEFENSIVE WITH YOUR PORTFOLIO
October 24, 2018
Last week, we discussed how much the market's recent drawdown was driven by a factor rotation away from the cyclical factors (Volatility, Market Sensitivity, & Momentum) and into the more defensive factors of Size, Value, & Profitability. Though we've seen a market bounceback in the past week, movements continue to be heavily correlated with the factor rotation, as shown below. MORE

3. CHARACTERISTICS OF THE RECENT SELLOFF
October 28, 2018
Over the past couple of weeks, we've discussed the factor rotation we observed during the initial market selloff, and how you can create a defensive basket of ETFs to maximize exposure to the defensive factors (Value, Profitability) and minimize exposure to the cyclical factors (Volatility, Market Sensitivity). MORE

4. FACTOR SPOTLIGHT: MOMENTUM UPDATE
September 7, 2018
I hope you've been having a great summer. While factor movement has been relatively quiet this season, we're now seeing the emergence of signal for Medium-Term Momentum factor in both the US and Global models. Usually, when we see this type of movement in both models, it makes for a much stronger signal. MORE

5. SIZE FACTOR IS EXTREMELY OVERSOLD
March 23, 2018
Continuing with our Factor Spotlight series, I wanted to highlight Size as another factor currently sending a strong signal in our Factor Profile. MORE
---
Happy holidays from all of us at Omega Point!
Omer
PS - If you are enjoying Factor Spotlight, we encourage you to forward this to any contacts that may find it of interest.